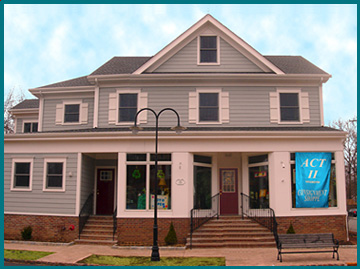 The Brand New Act II Consignment Shoppe!

SHOP HOURS
Open Year Round Tuesday thru Saturday
10 a.m.- 5 p.m.
Closed Sunday and Monday

Come visit us in Stirling, NJ at:
274 Main Avenue
908-626-1600
CONSIGNMENT


By appointment only – in order to serve you better.
CLOTHING MUST BE
1. Clean
2. In style
3. Excellent condition
4. On hangers entering the shop
TIME LIMIT
Clothing items will be on the selling floor for
two (2) months, household and gift items will
be on the floor for three (3) months. After that
period of time, items will be donated to a
charity of the store's choice.
PAYMENT


Checks are to be picked up at the store
4 times a year on or about the 5th of the
following months; January, April, July and
October. You must have $10.00 or more in
your account to receive a check. Accounts
with less than $10.00 will not receive a check
until the account reaches $10.00 or more.
COMMISSION CHARGED
50% of the selling price.

Please note that ACT II will not be responsible
for loss due to fire, theft, flood or water damage.
ACCEPTED ANY SEASON


China, glass, household items, bric-a-brac, small furniture items, appliances, etc. All must be in Good Condition. Seasonal shoes, handbags and jewelry
are also accepted.
PRICING


Will be done by shop personnel.
We must refuse any items for which
there is no demand.